Federal Land Transfer Facilitation Act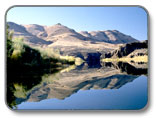 The BLM can only sell public lands that have been identified as potentially suitable for disposal in an approved land use plan or through an amendment to an existing plan. In order for the disposal to be eligible under the Federal Land Transfer Facilitation Act (FLTFA) (P.L. 106-248), the plan or plan amendment must also have been approved prior to the passage of FLTFA on July 25, 2000.
The FLTFA, also commonly referred to as the "Baca Act", directs the revenues generated from the sale or disposal of certain public lands to an account that can be used by the BLM, the U.S. Forest Service, the National Park Service, and the U.S. Fish and Wildlife Service (the Agencies), to purchase lands located within federally designated areas from willing sellers. A portion of the revenues can also be utilized by BLM to prepare public lands for sale.
Land purchases by the Agencies under FLTFA are governed by the provisions of the Act itself, a National Memorandum of Understanding among the four Agencies entered into in May 2003. Land sales under FLTFA are carried out in accordance with the provisions of Sections 203 and 209 of the Federal Land Policy and Management Act of October 21, 1976, and with the regulations under 43 CFR Part 2710 and 2720.
To determine what lands have been identified as potentially suitable for disposal in a given area, the public can contact the BLM Field Office that has jurisdiction over the area. Interested parties may request that certain lands be put up for sale. However, even though lands may have been identified for potential disposal in a land use plan, there are still many procedural requirements that the BLM must complete before the lands can be considered for sale. These processes and legal requirements can be costly and time consuming for the BLM and in some cases can result in a decision not to sell the public lands.
Method of Sale
Once BLM has cleared the lands for disposal, they will be offered to qualified interested parties through a competitive bidding process. The bidding process can include written sealed bidding or oral bidding, or a combination of both. In any case, the successful bidder will be required to submit no less than 1/5th of the total amount bid at the conclusion of the sale and the remainder of the bid amount within 180 days from the sale date.
The specific details of any upcoming sales will be provided in a Notice of Realty Action (NORA) that will be published in the Federal Register and local newspaper at least 60 days in advance of a scheduled sale. Published Notices of any upcoming sales can be viewed below. Additional information on specific sale parcels should be obtained from the appropriate BLM Field Office.
FLTFA Agreement
In November 2005, the BLM entered in to an agreement with the U.S. Fish and Wildlife Service, the National Park Service, and the U.S. Forest Service regarding FLTFA. The purpose of the FLTFA agreement was multifold:
Identify the roles and responsibilities of each agency for implementation of the FLTFA program in Oregon/Washington.
Establish an Oregon/Washington Interagency FLTFA Implementation Team and identify agency team members that will be the primary point of contact for coordinating FLTFA activities and meeting the requirements set forth in this Agreement.
Outline the process to be utilized for the nomination, prioritization, and recommendation of acquisition proposals for Secretarial approval.
Outline the processes and documentation requirements for the transfer and expenditure of funds, and for completing approved acquisitions.
FLTFA Agreement

(PDF)
More Information About Land Sale Requirements