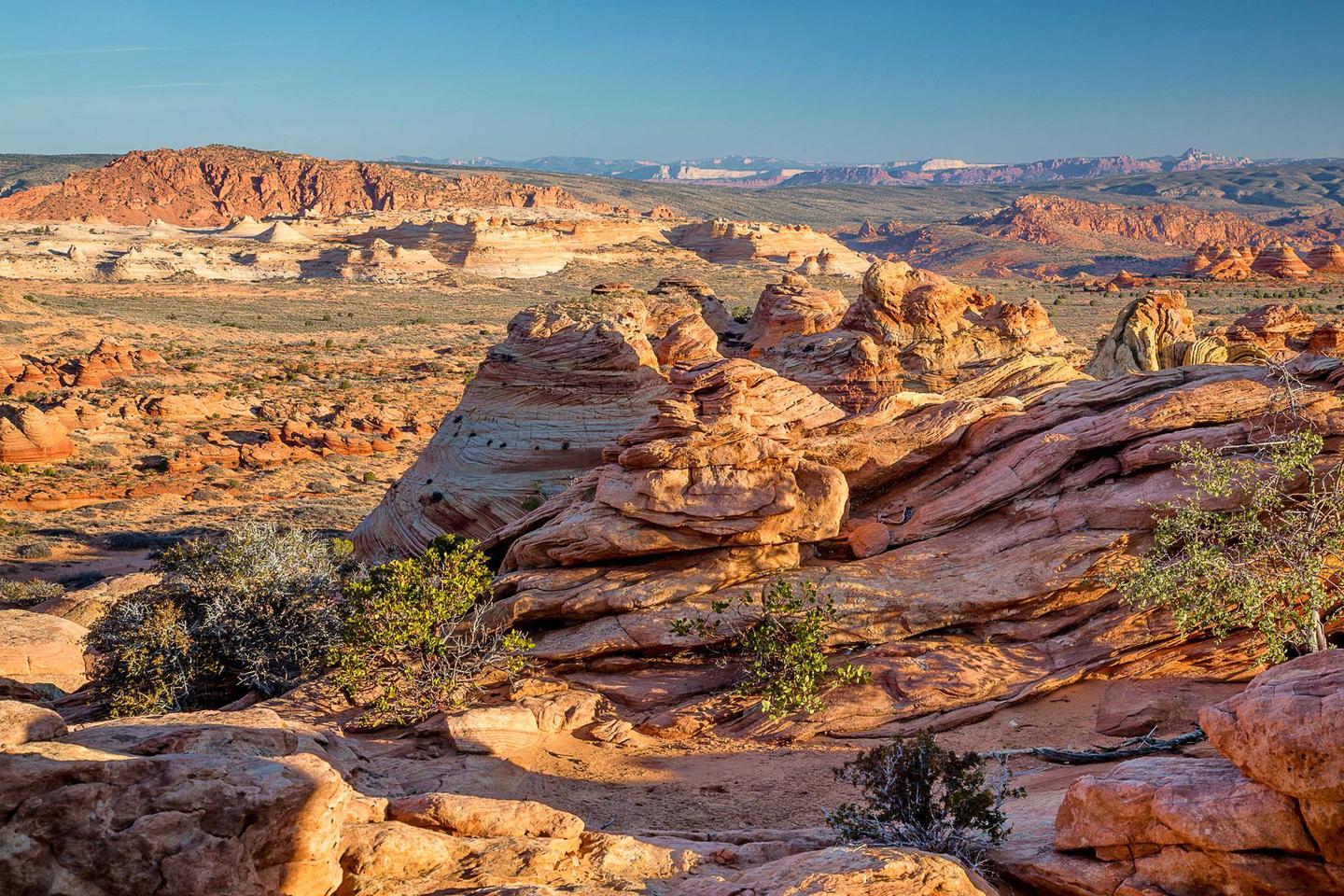 Latitude/Longitude:
37.04242, -112.512256
Directions:

Permit information is available at the Kanab Visitor Center, located at 745 Highway 89, Kanab, Utah 84741.

From Page, Arizona, head west on Highway 89 for 72 miles. When you reach Kanab, turn right (north) onto Fairway Drive and then turn immediately right (east) again.


Coyote Buttes South
Overview
Coyote Buttes South is just a small part of the 112,500 acre Paria Canyon-Vermilion Cliffs Wilderness, but has some of the most visually striking geologic sandstone formations in the world.
A Bureau of Land Management (BLM) permit is required year-round to access the area for day use. Twenty (20) permits are allotted every day (i.e. 1 person=1 permit). Permits are issued via two methods: an online calendar and a walk-in lottery. The online calendar becomes available 4 months in advance. The walk-in lottery issues permits for the FOLLOWING day. 10 permits are issued via each method.
Click here
for more information about permits for Coyote Buttes.
There are three main access points to Coyote Buttes South: Lone Tree, Paw Hole, and Cottonwood Cove. All three are undeveloped access points; no toilets or water are available at these sites. Lone Tree is accessible in dry conditions with a 2WD high-clearance vehicle. After parking at Lone Tree, it is a 2.5 mile hike to the permit area. Routes to Paw Hole and Cottonwood Cove are only accessible with a 4WD vehicle due to extremely sandy conditions. A map to the access point will be provided with the permit.
There are no designated hiking trails in Coyote Buttes South. Permit holders should be in good physical condition and have good backcountry hiking and navigation skills.
Know Before You Go
Coyote Buttes Rules and Permit Stipulations
Disturbing or defacing prehistoric or historic ruins, site, artifacts or rock art panels is prohibited.
The permit is valid only for use by the permit holder for the area, group size, and date specified. Permits for Coyote Buttes South are not valid in Coyote Buttes North, and vice versa.
The maximum group size limit is six persons.
The permit is for day use only. Overnight camping is prohibited.
Dogs must be included on the permit and be kept under control at all times. Owners must dispose of dog waste with the same method used for human waste.
All trash must be packed out, including toilet paper.
All motorized and mechanized equipment and transport are prohibited in the wilderness.
All fires are prohibited, including campfires and burning of trash.
Recreational use of horses or pack stock is prohibited.
BLM Law Enforcement may require permit holders to present a government issues I.D for permit verification.
Common Sense Hiking Tips
There is no water at access points. Plan on carrying at least 1 gallon of water per person per day.
Notify an emergency contact of your group's plans before you begin your trip.
Be aware of the weather and road conditions, and assume the risks involved. Make sure your group has the adequate experience level, physical fitness, supplies, and equipment to successfully complete this trip.
Your safety and the safety of your group is your responsibility. Adequately plan and prepare for this trip. Take actions to ensure that your group is self-reliant and aware of the risks involved with backcountry and wilderness hiking.