NEVADA NATIONAL CONSERVATION AREAS
BLM Nevada has three National Conservation Areas (NCAs) totaling more than one million acres -  Black Rock Desert-High Rock Canyon Emigrant Trails NCA, in northwestern Nevada, was primarily established to protect and preserve the unique and nationally significant historic trail corridors and the associated viewsheds that emigrants experienced on their difficult journeys across the west. The Applegate-Lassen Trail and Nobles Trail corridors and surrounding areas contain portions of John C. Fremont's 1843-1844 exploration route through the Great Basin. Outstanding biological resources are also a part of this NLCS unit. Red Rock Canyon NCA, in southern Nevada, contains unique natural and cultural resources that stand in stark contrast to the nearby city of Las Vegas. More than one million visitors enjoy Red Rock Canyon's scenic beauty each year. Highlights of the NCA include a 13-mile Scenic Backcountry Byway with views of a spectacular 1500 foot high sandstone escarpment. There is also a visitor center and more than 30 miles of hiking and biking trails. Other recreation uses include sightseeing, rock climbing, birding, and horseback riding. Sloan Canyon NCA, also in southern Nevada, contains one of the most significant prehistoric rock art sites in Nevada. It is 20 miles southeast of Las Vegas, bordering the City of Henderson, in the northern portion of the McCullough Range. There are more than 300 rock art panels with over 1,700 individual design elements created by Native Americans over thousands of years. Primary recreation uses include hiking, mountain biking and horseback riding.
Featured National Conservation Area: Red Rock Canyon National Conservation Area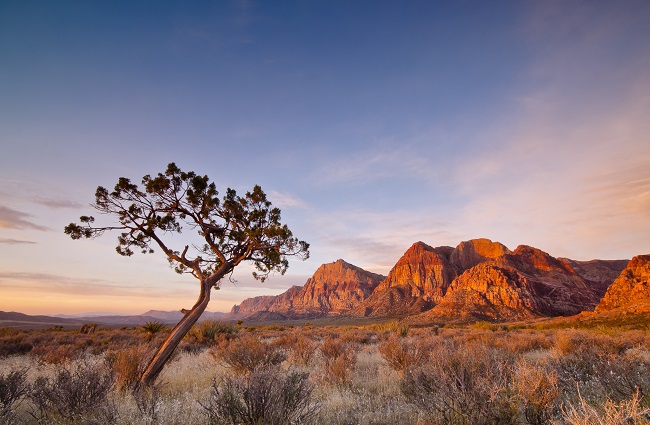 Red Rock Canyon National Conservation Area was designated as Nevada's first National Conservation Area. Red Rock Canyon is located 17 miles west of the Las Vegas Strip on Charleston Boulevard/State Route 159.  The area is 195,819 acres and is visited by more than one million people each year.  In marked contrast to a town geared to entertainment and gaming, Red Rock offers enticements of a different nature including a 13-mile scenic drive, miles of hiking trails, rock climbing, horseback riding, mountain biking, road biking, picnic areas, nature observing and visitor center with indoor and outdoor exhibits and a gift shop.
All Nevada National Conservation Areas
All Nevada national conservation areas are below.