BLM WYOMING WILDERNESS STUDY AREAS
BLM Wyoming manages 42 WSAs encompassing 577,504 acres of public land. 
Featured Wilderness Study Area: Adobe Town WSA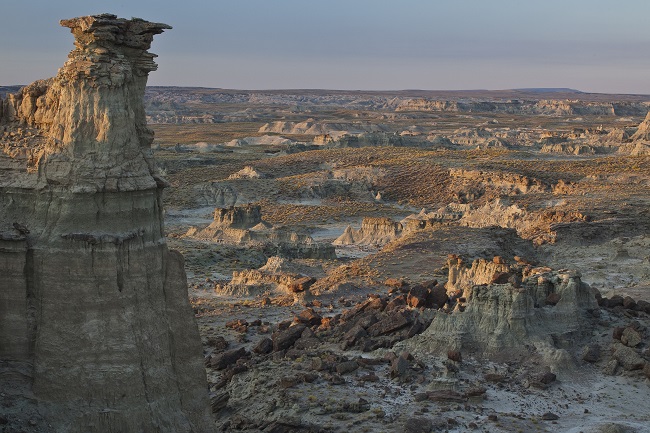 The Adobe Town Wilderness Study Area is made up of two inventoried units divided by the administrative boundary between the Rawlins and Rock Springs Districts. The study area contains 82,350 acres of BLM-administered land, 3,360 acres of split estate, and 1,280 acres of state land. The maze of badlands, mesas and buttes combine with brilliantly colored rock strata to create spectacular canyon land scenery.
Description: At 85,710 acres in size, Adobe Town WSA is the largest in Wyoming. Located 80 miles southwest of Rawlins, outstanding opportunities for solitude and primitive and unconfined recreation exist in the WSA. Almost 11,000 acres of this WSA were recommended as suitable for wilderness status in the 1992 report to Congress.
Naturalness: Skull Creek Rim, in the core of the recommended area, is a very colorful and rugged badland area which consists of a series of highly eroded drainages and badland rims. To the north of Skull Creek Rim is Monument Valley and Adobe Town Rim. These areas also contain badlands and formations similar to Skull Creek, but are more dispersed. To the east (the majority of the non-suitable area) is a broad, relatively undisturbed plain that is covered with stabilized sand dunes and alluvium.
Special Features: The WSA is nationally known for the educational and scientific study of paleontological resources. Fossil remains of mammals are numerous and widely distributed throughout the area. Two notable mammalian fossils found in the area are the Uintathere and the Titanothere. The Uintathere was a large mammal about the size and configuration of an African rhinoceros. The species of Titanothere found in the WSA was a tapir-like mammal, about 40 inches in height. This area has been identified as one of the premier sites in North America for paleontological resources.
Significant archaeological resources are found throughout the WSA, representing 12,000 years of continuous occupation by man from Paleo Indian through late Prehistoric periods. The cultural site density of the WSA is estimated to be 30 surface sites per square mile, which is unusually high.
BLM Wyoming Wilderness Study Areas
A complete list of the BLM WYOMING wilderness study areas is below:
High Desert District
Adobe Town 
Alkali Basin/East Sand Dunes 
Alkali Draw 
Bennett Mountain 
Buffalo Hump 
Devil's Playground 
Encampment River Canyon 
Ferris Mountain 
Honeycomb Buttes 
Lake Mountain 
Oregon Buttes 
Prospect Mountain 
Raymond Mountain 
Red Creek Badlands 
Red Lake 
Sand Dunes 
Scab Creek 
South Pinnacles 
Twin Buttes 
Whitehorse Creek
High Plains District
Fortification Creek 
Gardner Mountain 
North Fork
Wind River/Bighorn Basin District
Alkali Creek 
Bobcat Draw Badlands 
Bighorn Tack-On 
Cedar Mountain 
Copper Mountain 
Dubois Badlands 
Honeycombs 
Lankin Dome 
McCullough Peaks 
Medicine Lodge 
Miller Spring 
Owl Creek 
Pryor Mountain 
Red Butte 
Savage Peak 
Sheep Mountain 
Split Rock 
Sweetwater Canyon 
Trapper Creek 
Whiskey Mountain