BLM UTAH WILDERNESS STUDY AREAS
As of 2013, Utah BLM administers 86 Wilderness Study Areas encompassing over 3.2 million acres.  On October 18, 1991, Utah submitted a report to Congress recommending which Wilderness Study Areas should be designated as Wilderness and which should be released for other purposes.  Congress has received BLM's wilderness recommendation from the Secretary of the Interior and the President.  In the legislative phase of the wilderness review, there is no deadline or timetable for Congress to act; only Congress can designate areas as part of the National Wilderness Preservation System.
Featured Wilderness Study Area: Deep Creek Mountains Wilderness Study Area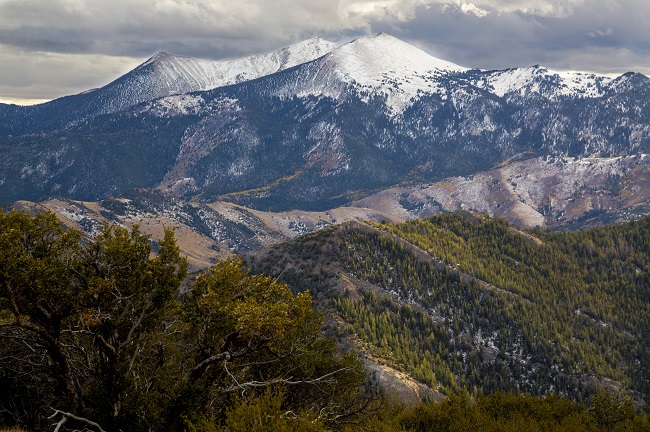 Flanked on the east by the Great Salt Lake Desert and on the west by the Deep Creek Valley, this 32-mile long, 3- to 15-mile wide range is located in west central Utah, adjacent to the Utah-Nevada state line and approximately 55 miles south of Wendover, Utah.  The Deep Creek Mountains are the highest landmark in all of western Utah.  As an isolated "island" ecosystem and the fourth-highest range in the Great Basin, the "Deeps" dominate the Great Salt Lake Desert in altitude, sheer mass, and biotic richness. From a barren landscape of alluvial outwash and playa basins, two 12,000-foot peaks rise 7,800 feet above the shimmering desert to form alpine meadows, evergreen and aspen forests, nine perennial streams and numerous canyons that twist through massive granite formations or quartzite cliffs.
BLM Utah Wilderness Study Areas
A complete list of the BLM Utah wilderness study areas is below:
Behind the Rocks
Black Ridge Canyon West
Book Cliffs Mountain Browse
Bridger Jack Mesa
Bull Canyon
Bull Mountain
Burning Hills
Butler Wash
Canaan Mountain
Carcass Canyon
Cheesebox Canyon
Coal Canyon
Conger Mountain
Crack Canyon
Cross Canyon
Daniels Canyon
Dark Canyon
Death Ridge
Deep Creek Mountains
Desolation Canyon
Devils Canyon
Devil's Garden
Diamond Breaks
Dirty Devel
Escalante Canyon Tract 1
Escalante Canyons Tract 5
Fiddler Butte
Fifty Mile Mountain
Fish Creek Canyon
Fish Springs
Floy Canyon
Flume Canyon
Fremont Gorge
French Spring-Happy Canyon
Grand Gulch
Horseshoe Canyon (North)
Horseshoe Canyon (South)
Howell Peak
Indian Creek
Jack Canyon
King Top
Link Flats
Little Rockies
Lost Spring Canyon
Mancos Mesa
Mexican Mountain
Mill Creek Canyon
Moquith Mountain
Mt. Ellen-Blue Hills
Mt. Hillers
Mt. Pennell
Mud Spring Canyon
Muddy Creek
Mule Canyon
Negro Bill Canyon
North Escalante Canyons/The Gulch
North Fork Virgin River
North Stansbury Mountains
Notch Peak
Orderville Canyon
Paria Hackberry
Paria Hackberry 202
Parunuweap Canyon
Phipps-Death Hollow
Road Canyon
Rockwell
San Rafael Reef
Scorpion
Scott's Basin
Sids Cabin 202
Sids Mountain
South Needles
Spring Creek Canyon
Spruce Canyon
Squaw/Papoose Canyon
Steep Creek
Swasey Mountain
The Blues
The Cockscomb
Turtle Canyon
Wah Wah Mountains
Wahweap
West Cold Spring
Westwater Canyon
White Rock Range
Winter Ridge