BLM NEW MEXICO WILDERNESS STUDY AREAS
There are 57 BLM-managed Wilderness Study Areas (WSA) in New Mexico, totaling 958,751 acres.  WSAs are roadless areas that have been inventoried and found to have wilderness characteristics.  The Federal Land Policy and Management Act directed the BLM to identify its roadless areas and study them for their suitability for preservation as Wilderness.  The study of BLM lands in New Mexico was completed and a recommendation provided in September of 1991.  WSAs are managed so as not to impair their suitability for preservation as wilderness until Congress decides to permanently protect them as Wilderness, or release them from WSA status to non-wilderness uses.  
In New Mexico, you will find WSAs in almost every corner of the State.  Recreational uses in WSAs include activities such as hiking, hunting, fishing, horseback riding, backpacking, camping, nature study, photography, and rock climbing. Motorized and mechanized (e.g. mountain bike) activities may also occur in WSAs only as limited to existing routes; WSAs are not places where development or promotion of motorized or mechanized recreation occurs.
Featured Wilderness Study Area: Organ Mountains WSA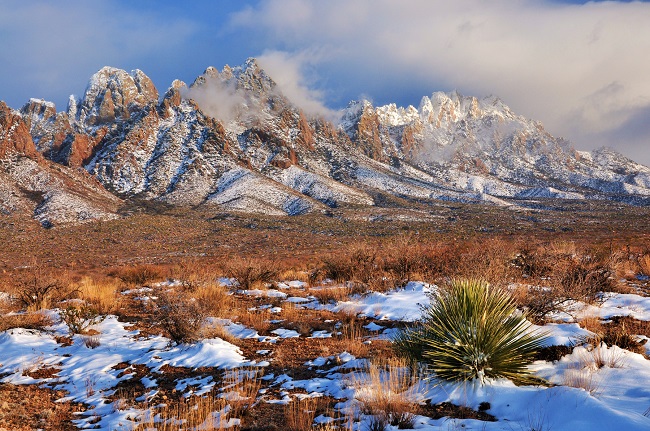 Part of the Organ Mountains-Desert Peaks National Monument, the Organ Mountains WSA is located in south-central New Mexico on the eastern edge of Las Cruces. The Organ Mountains range from 4,600 to just over 9,000 feet, and are so named because of the steep, needle-like spires that resemble the pipes of an organ. Alligator juniper, gray oak, mountain mahogany and sotol are the dominant plant species here, but in the upper elevations stands of ponderosa pine may be found. Seasonal springs and streams occur in canyon bottoms, with a few perennial springs that support riparian habitats. Wildlife includes desert mule deer, mountain lion, a variety of song birds, and a race of the Colorado chipmunk. The WSA includes the Baylor Pass National Recreation Trail.
BLM New Mexico Wilderness Study Areas
A complete list of the BLM NEW MEXICO wilderness study areas is below:
Ah-shi-sle-pah Wilderness Study Area 
Alamo Hueco Mountains Wilderness Study Area 
Antelope Wilderness Study Area
Apache Box Wilderness Study Area 
Big Hatchet Mountains Wilderness Study Area 
Blue Creek Wilderness Study Area 
Brokeoff Mountains Wilderness Study Area 
Cabezon Wilderness Study Area 
Canyons Wilderness Study Area 
Carrizozo Lava Flow Wilderness Study Area 
Cedar Mountains Wilderness Study Area 
Chain of Craters Wilderness Study Area 
Chamisa Wilderness Study Area 
Continental Divide Wilderness Study Area 
Cooke's Range Wilderness Study Area 
Cowboy Spring Wilderness Study Area 
Culp Canyon Wilderness Study Area 
Devil's Backbone Wilderness Study Area
Devil's Den Canyon Wilderness Study Area 
Devil's Reach Wilderness Study Area 
Eagle Peak Wilderness Study Area 
El Malpais Wilderness Study Area 
Empedrado Wilderness Study Area 
Florida Mountains Wilderness Study Area 
Gila Lower Box Wilderness Study Area 
Gray Peak Wilderness Study Area 
Guadalupe Canyon Wilderness Study Area 
Horse Mtn. Wilderness Study Area 
Hoverrocker Wilderness Study Area 
Ignacio Chavez Wilderness Study Area 
Jornada del Muerto Wilderness Study Area 
La Leña Wilderness Study Area 
Las Uvas Mountains Wilderness Study Area 
Little Black Peak Wilderness Study Area
Lonesome Ridge Wilderness Study Area 
Manzano Wilderness Study Area 
Mathers Wilderness Study Area 
McKittrick Canyon Wilderness Study Area
Mesita Blanca Wilderness Study Area 
Mount Riley Wilderness Study Area 
Mudgetts Wilderness Study Area 
Ojito Wilderness Study Area 
Organ Mountains Wilderness Study Area 
Organ Needles Wilderness Study Area  
Peloncillo Mountains. Wilderness Study Area 
Peña Blanca Wilderness Study Area 
Petaca Pinta Wilderness Study Area 
Presilla Wilderness Study Area 
Rio Chama Wilderness Study Area 
Robledo Mountains Wilderness Study Area 
San Antonio Wilderness Study Area
Sierra de las Cañas Wilderness Study Area 
Sierra Ladrones Wilderness Study Area 
Stallion Wilderness Study Area 
Veranito Wilderness Study Area 
West Potrillo Mountains Wilderness Study Area