BLM NEVADA WILDERNESS STUDY AREAS
As of 2016 BLM Nevada manages 60 Wilderness Study Areas (WSA) totaling 2,516,855 acres. These areas are actively administered to ensure
that wilderness values are preserved and protected until such time as Congress decides either to designate these areas as wilderness or release them for multiple-use purposes. BLM WSAs are open to a wide variety of non-motorized, primitive recreational activities, including horseback riding, rafting, fishing, hunting, backpacking, wildlife viewing, and camping. WSAs often have special qualities such as ecological, geological, educational, historical, scientific, and scenic values.
Featured Wilderness Study Area: Disaster Peak Wilderness Study Area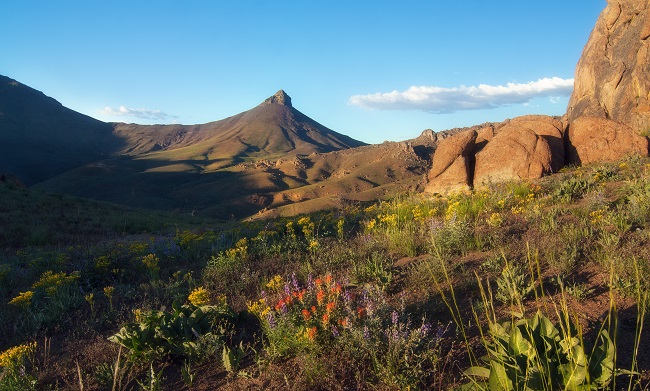 The Disaster Peak Wilderness Study Area is located in both Nevada and Oregon. Disaster Peak WSA lies in the west-central Trout Creek Mountains at the headwaters of Kings River and McDermitt Creek. It contains a portion of the main north-south ridgeline of the Trout Creek Mountains, a number of stream valleys and rolling sagebrush hills. It has a very irregular horseshoe shape, and is approximately 10 miles long and 8 miles wide. The WSA contains land in BLM's Winnemucca, Nevada district, and Vale and Burns, Oregon, districts. Total public land in the WSA is 32,040 acres; 18,840 acres in Oregon and 13,200 acres in Nevada. The private parcel and the split estate lands are also in Oregon. The boundary follows BLM roads and private land boundaries.
BLM Nevada Wilderness Study Areas
A complete list of the BLM NEVADA wilderness study areas is below:
Battle Mountain District (17):

Kawich, Rawhide Mountain
South Reveille
Palisade Mesa
Blue Eagle
The Wall
Fandango
Silver Peak Range
Pigeon Spring
Queer Mountain
Grapevine Mountains
Antelope Range
Simpson Park
Roberts Mountain
Mountain Meadow Instant Study Area
Pinyon Joshua Instant Study Area
Morey Peak

Carson City District (6):

Clan Alpine Mountains
Stillwater Range
Desatoya Mountains
Job Peak
Gabbs Valley Range
Burbank Canyons

Elko District (10):

Bluebell
Goshute Peak
South Pequop
Bad Lands
Cedar Ridge
Red Springs
Little Humboldt River
Rough Hills
South Fork Owyhee River
Owyhee Canyon

Ely District (3):

Goshute Canyon
Park Range
Riordan's Well

Southern Nevada District (4):

Mount Stirling
Million Hills
Resting Springs
Virgin Mountain Instant Study Area

Winnmeucca District (14):  

Poodle Mountain
Fox Range
Pole Creek
Selenite Mountains
Mount Limbo
China Mountain
Tobin Range
North Fork of the Little Humboldt River
Augusta Mountains
Pueblo Mountains
Disaster Peak
Lahontan Cutthroat Trout Instant Study Area

Public land located in Nevada, but administered by BLM California Offices - Eagle Lake Field Office (5):

Five Springs
Skedaddle
Dry Valley Rim
Buffalo Hills
Twin Peaks

Surprise Field Office (3):

Wall Canyon
Sheldon Contiguous
Massacre Rim