BLM MONTANA/DAKOTAS WILDERNESS STUDY AREAS
BLM Montana/Dakotas manages 40 Wilderness Study Areas that cover over 540,000 acres. 
Featured Wilderness Study Area: Burnt Lodge Wilderness Study Area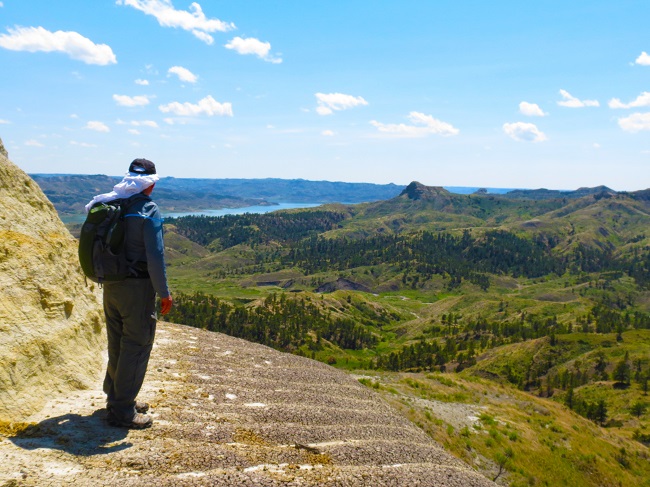 Burnt Lodge WSA contains spectacular river breaks topography formed by a number of tributaries that flow to the Missouri River from the northwest.  The steep south-facing slopes consist of eroded badlands with no significant vegetative cover.  The ridge tops and north-facing slopes are vegetated by prairie grasses and forbs.  Approximately 25 percent of the area supports scattered stands of ponderosa and lodgepole pine, juniper, and Douglas fir.  Elevations range from 3,100 feet in the northern portion to 2,400 feet along the Charles M. Russell National Wildlife Refuge and the adjoining Fort Peck Reservoir. The study area is part of the Missouri Plateau in the Northern Great Plains where the Missouri River has cut a canyon 600-800 feet deep.  Exposed rock in the breaks topography is mostly shales and sandstones, lying over older sedimentary formations.
BLM Montana Wilderness Study Areas
A complete list of the BLM Montana wilderness study areas is below:
Terry Badlands
Antelope Creek
Burnt Lodge
Stafford
Ervin Range
Cow Creek
Dog Creek South
Woodhawk
Bitter Creek
Zook Creek
Buffalo Creek
Burnt Timber Canyon
Pryor Mountain
Big Horn Tack-On
Twin Coulee
Wales Creek
Hoodoo Mountain
Quigg West
Sleeping Giant/Sheep Creek
Black Sage
Yellowstone River Island
Ruby Mountains
Blacktail Mountains
East Fork fo Blacktail Deer Creek
Hidden Pasture Creek
Bell and Limekiln Canyons
Henneberry Ridge
Farlin Creek
Axolotl Lakes
Centennial Mountains
Humbug Spires
Square Butte