BLM COLORADO WILDERNESS STUDY AREAS
BLM Colorado manages 53 WSAs covering about 600,000 acres.
Featured Wilderness Study Area: Handies Peak Wilderness Study Area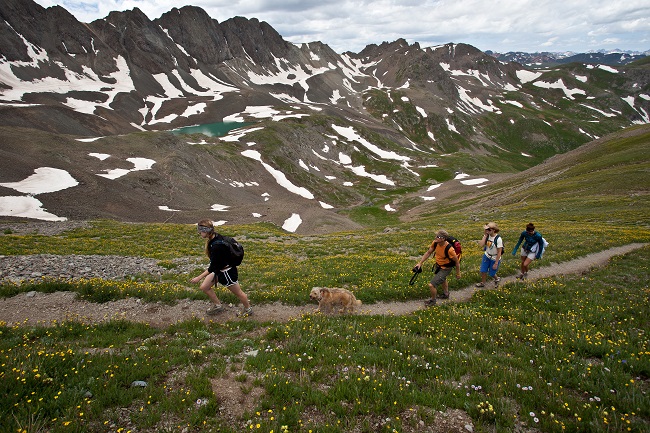 The Handies Peak Wilderness Study Area boasts the highest point of BLM-managed land outside of Alaska, coming in at 14,048 feet above sea level. In addition to its namesake peak, the WSA  hosts 12 other mountains rising over 13,000 feet, three major canyons, numerous small drainages, glacial cirques and three alpine lakes. Visitors enjoy include hiking, backpacking, camping, mountain climbing and photography in this unique alpine WSA.
BLM Colorado Wilderness Study Areas
A complete list of the BLM COLORADO wilderness study areas is below:
Adobe Badlands
American Flats
Ant Hills
Beaver Creek
Bill Hare Gulch
Black Canyon
Black Mountain
Black Ridge Canyons
Browns Canyon
Bull Canyon
Bull Gulch
Cahone Canyon
Camel Back
Castle Peak
Chew Winter Camp
Cross Canyon
Cross Mountain
Demaree, Diamond Breaks
Dolores River Canyon
Dominguez Canyon
Eagle Mountain
Hack Lake
Handies Peak
High Mesa Grassland RNA
Little Book Cliffs
Lower Grape Creek
McIntyre Hills
McKenna Peak
Menefee Mountain
Needle Rock ISA
North Sand Hills
Oil Spring Mountain
The Palisade
Papa Keal
Peterson Draw
Platte River Contiguous
Powderhorn
Rare Lizard & Snake Natural Area
Red Cloud Peak
San Luis Hills
Sewemup
Skull Creek
Squaw/Papoose Canyon
Troublesome
Upper Grape Creek
Vale of Tears
Weber Mountain
Weminuche Contiguous
West Cold Spring
Whitehead Gulch
Willow Creek
Windy Gulch