BLM CALIFORNIA WILDERNESS STUDY AREAS
The Bureau of Land Management in California manages 69 Wilderness Study Areas encompassing 1.4 million acres.  Wilderness Study Areas in California provide diverse habitats from desert landscapes, grasslands, and arid alpine mountains to coastal temperate forests.  
These lands are managed to protect present conditions and provide habitats for a variety of plant and animal threatened and endangered species. The Wilderness Study Areas currently provide crucial connecting corridors for migratory species from other wilderness areas.
BLM California will continue to monitor and protect Wilderness Study Areas until Congress decides whether to designate them as wilderness or to manage them for other purposes.
Featured Wilderness Study Area: Slinkard WSA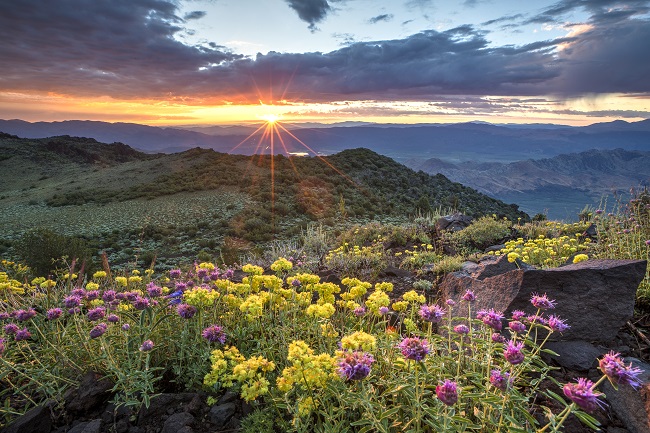 The Slinkard Wilderness Study Area is a large natural area located just south of Monitor Pass.  The higher peaks offer vast panoramas stretching from California's Eastern Sierra into rows of Basin and range peaks in Nevada. The mountains here have two different personas; they are rugged and steep on the east face and gentle on the west face.  The lower elevations are covered in big sagebrush, bitterbrush, and perennial grasses, while the higher elevations are home to pinyon pine, juniper and mountain mahogany.  White fir, Jeffery pine and a maze of white-trunked trembling aspen grow along the drainages. 
BLM California Wilderness Study Areas
A complete list of the BLM California wilderness study areas is below:
Avawatz Mountain
Bear Canyon Rare II Contiguous
Bear Mountain Rare II Contiguous
Big Butte
Bitterbrush
Black Mountain
Bodie
Bodie Mountain
Buffalo Hills
Cady Mountains
Caliente Mountain
Carrizo Gorge
Carson-Iceberg
Casa Diablo
Cerro Gordo
Chidago Canyon
Crater Mountain
Death Valley-17
Dry Valley Rim
Eden Valley
Excelsior
Fish Slough
Five Springs
Garcia Mountains
Great Falls Basin
Hauser Mountain
Independence Creek
King Range
Kingston Range
Lava
Machesna
Masonic Mountain
Massacre Rim
Merced River
Milk Ranch/ Case Mountain
Moses
Mount Biedeman
Owens Peak
Panoche Hills North
Panoche Hills South
Pinto Mountains
Pit River Canyon
Piute Cypress ISA
Poodle Mountains
Rockhouse
Rocky Creek-Cache Creek
Sacatar Meadows
San Benito Mountain
San Felipe Hills
San Ysidro Mountain
Sawtooth Mountains A
Sawtooth Mountains C
Scodie
Sheep Ridge
Sheldon Contiguous
Skedaddle
Slinkard
Soda Mountains
South Warner Contiguous
Southern Inyo
Symmes Creek
Table Mountain
Thatcher Ridge
Timbered Crater
Tule Mountain
Tunnison Mountain
Twin Peaks
Volcanic Tablelands
Wall Canyon
White Mountains
Yolla Bolly Contiguous