UTAH NATIONAL MONUMENTS
The Bureau of Land Management manages two National Monuments in Utah - Bears Ears National Monument and Grand Staircase Escalante National Monument. President Obama designated Bears Ears National Monument on December 28th, 2016. Find out more about Bears Ears National Monument below.
Utah is also home to Grand Staircase-Escalante National Monument, the first national monument to be managed by the BLM and also the first area to be designated as part of the National Conservation Lands. It is the largest protected area managed solely by the BLM, comprised of 1.88 million acres in southern Utah – slightly larger than the state of Delaware. Its size, resources, and remote character provide rich opportunities for geologists, archeologists, historians, and biologists in scientific research, education, and exploration.
Featured: Bears Ears National Monument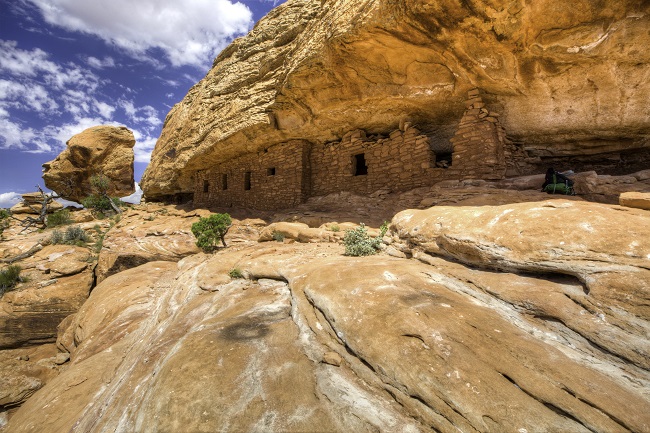 The new 1.35 million-acre Bears Ears National Monument in southeastern Utah protects one of most significant cultural landscapes in the United States, with thousands of archaeological sites and important areas of spiritual significance. Abundant rock art, ancient cliff dwellings, ceremonial kivas, and countless other artifacts provide an extraordinary archaeological and cultural record, all surrounded by a dramatic backdrop of deep sandstone canyons, desert mesas, and forested highlands and the monument's namesake twin buttes. These lands are sacred to many Native American tribes today, who use the lands for ceremonies, collecting medicinal and edible plants, and gathering materials for crafting baskets and footwear. Their recommendations will ensure management decisions reflect tribal expertise and traditional and historical knowledge.
Additional Information About Bears Ears National Monument
All Utah National Monuments 
Visit Utah national monuments through the links below:
Bears Ears National Monument (recreation map link coming soon!)