ARIZONA NATIONAL MONUMENTS
Featured National Monument: Agua Fria National Monument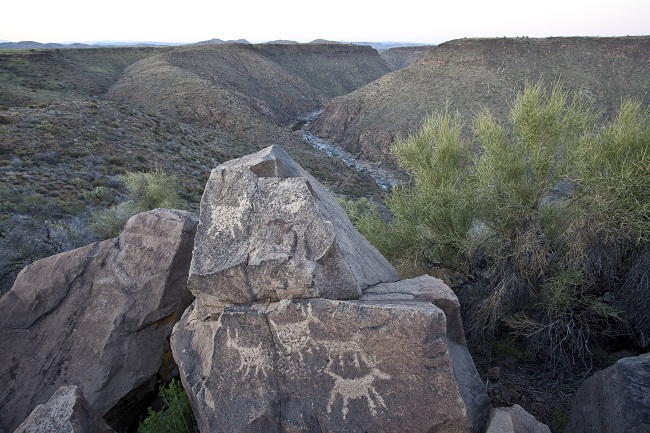 Adjacent to rapidly expanding communities, the 70,900-acre Agua Fria National Monument is approximately 40 miles north of central Phoenix. The area is located on a high mesa semi-desert grassland, cut by the canyon of the Agua Fria River and other ribbons of valuable riparian forest, contributing to an outstanding biological resource. The diversity of vegetative communities, topographic features, and a dormant volcano decorates the landscape with a big rocky, basaltic plateau. The Agua Fria river canyon cuts through this plateau exposing precambrian rock along the canyon walls. Elevations range from 2,150 feet above sea level along the Agua Fria Canyon to about 4,600 feet in the northern hills. This expansive mosaic of semi-desert area, cut by ribbons of valuable riparian forest, offers one of the most significant systems of prehistoric sites in the American Southwest. In addition to the rich record of human history, the monument contains outstanding biological resources.
The area is the home to coyotes, bobcats, antelope, mule deer, javelina, a variety of small mammals and songbirds. Eagles and other raptors may also be seen. Native fish such as the longfin dace, the Gila mountain sucker, the Gila chub, and the speckled dace, exist in the Agua Fria River and its tributaries.
All Arizona National Monuments
A list of all Arizona national monuments can be seen below.