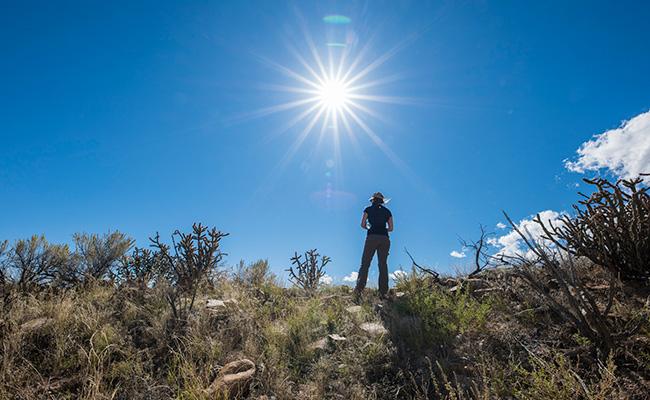 Rio Grande Del Norte / Sabinoso Wilderness State Land Exchange
As of July 18, 2018, the Rio Grande del Norte/Sabinoso Wilderness State Land Exchange was paused. The BLM stands ready to partner with the state on this and future exchanges when resources become available to do so.
---
The Bureau of Land Management (BLM) and the New Mexico State Land Office (SLO) have entered into an agreement to initiate a land exchange involving lands in Taos, San Miguel, Rio Arriba, McKinley, Sandoval, San Juan, Mora, Colfax, Santa Fe, Torrance, Guadalupe, Lincoln, Socorro, Chaves, and Otero counties, New Mexico.
The proposal would exchange approximately 43,000 acres of New Mexico State Trust lands and minerals in the Río Grande del Norte National Monument (Monument) and Sabinoso Wilderness Area to the BLM, for up to about 70,000 acres of scattered parcels of Federal lands identified for disposal and minerals managed by various BLM Offices throughout the State to the SLO.  Land Exchanges are conducted on a value-for-value basis.  This is because the value of land varies greatly based on its location and development potential. 
By eliminating mixed BLM/SLO ownership, the proposed exchange would consolidate ownership of Federal lands, therefore, increasing management efficiencies.  The public will see benefits from the consolidation of public lands including increased recreational access opportunities.  As a result, the proposed exchange would further the purpose of Secretarial Order 3347, to expand access to public land.  It would also resolve potential trespass issues on State lands.  
The public land parcels that are proposed to be exchanged to the State have been identified for disposal through BLM's land use planning process.  They are isolated from other public land parcels and inefficient for BLM to manage.  As a result, public access would not be an issue.  
Completion of this exchange will require preparation of an environmental assessment (EA) in conformance with the 1969 National Environmental Policy Act.  The EA process will involve extensive collaboration with members of the public, tribal entities, and local governments. Throughout the development of this EA, the BLM will provide several opportunities for public input.