Center Content:
Greater Sage-Grouse in Utah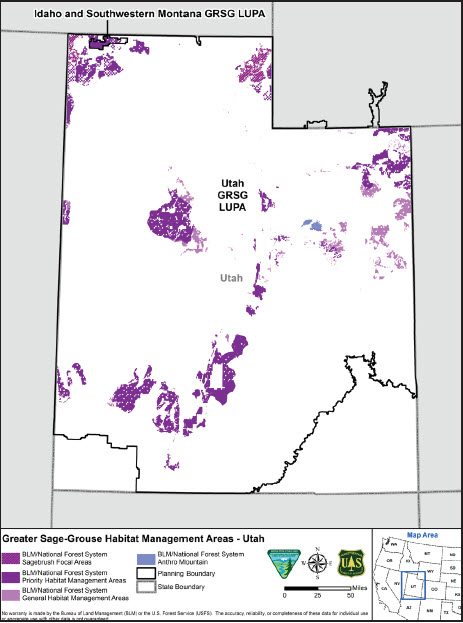 If you're interested in Greater Sage- Grouse habitat in the area of: Cedar City; Fillmore; Grand Staircase-Escalante National Monument; Kanab; Price; Richfield; Salt Lake City; Vernal.
Utah's greater sage-grouse populations are distributed along the northern and western borders of the state with a string of isolated populations in the state's geographic center.
Sage-grouse populations in Utah are important because they represent numerous resilient populations across a diverse landscape; contributing to the long-term viability of the species across its range. 
Sagebrush habitat in Utah reflects the rugged and incised natural topography of the state. Utah is home to the most southern population of sage-grouse within the species range, providing evidence of historic linkages to the south. The relatively isolated nature of greater sage-grouse in Utah have also provided extensive research opportunities, the results of which have greatly enhanced our understanding of the species. They may also provide adaptive capacity to continue the long-term persistence of the species.
Approximately half of occupied habitat is managed by the federal government. Energy development, invasive grasses, fire, and conifer encroachment pose major challenges to greater sage-grouse in Utah.