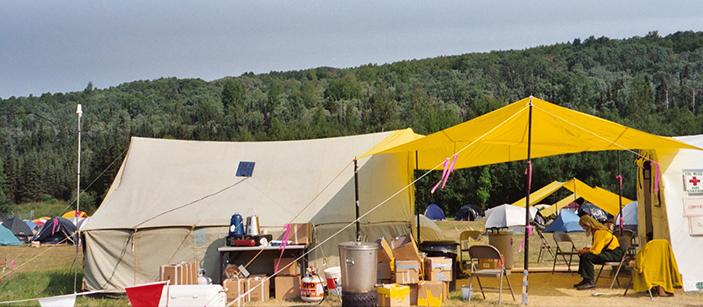 Alaska Fire Medic Program
The Alaska Fire Medic Program (FMP) provides on-incident medical support. The State of Alaska DOF and AFS cosponsor the Alaska Fire Medic Program. The program, consisting of medical kits and Emergency Medical Technicians (EMTs), is coordinated by the FMP Coordinator, an AFS Safety and Occupational Health Specialist.
Fire Medics are ordered as single resource Overhead requests. The AICC Overhead and Crew desk will process all requests for medical personnel.
Goals of the program
Provide Alaska incidents, staging areas and field stations the option of a standardized, conservative, carefully defined, centrally managed and carefully limited medical program that is designed and managed by the suppression agencies.
Recognize that any decision to either provide or not to provide medical care on fires carries risk of potential legal liability. Carefully design and manage the Fire Medic program to minimize potential legal liability to the suppression agencies, the physician sponsor and the Fire Medic. Ensure that all aspects of this program are legal under both State and Federal laws and regulations. Design a program that substantially reduces legal liability over the alternatives of providing no medical care or providing medical care through other means.
Make clear that this is only an optional medical program that neither specifies proper medical care on wildfires nor limits the ability of the incident to provide medical care through other alternatives. Leave the decision of if and when to provide this program up to the IC or the responsible FMO. Attempt to provide this program only on those incidents that have ordered this particular option for providing medical care. Carefully avoid mandating the use of this program.
Make this a single standardized interagency program that functions to the advantage of both suppression agencies. Make clear that the requesting suppression agency for any specific assignment will have full administrative and supervisory responsibility for the kit and medic and thus bear any liability.
Consider the typical patients, geographic isolation of Alaskan fires and the long transportation times to medical care when choosing the level of care this program provides. The program design assumes that the probable elapsed time from serious injury to delivery to a physician's care will be from one to eighteen hours and recognizes that weather or smoke may sometimes further delay evacuation of an injured person for several days. The program design recognizes that long evacuation times and the typical distance of fires from roads mean that Alaska fires have very different medical needs than lower 48 fires.
Return the fire personnel to the fire line as quickly as possible when minor injuries and job related minor health problems mean that evacuation is neither necessary nor desirable. Provide first aid and conservative minor medical care designed to keep fire personnel more productive and reduce the need for medical releases or evacuations because of illness and minor injury. Carefully avoid attempting to provide full-scale preventative medical care that would commonly deal with pre-existing conditions.
Do not attempt to provide long-term care on incidents to fire personnel with a serious injury or illness. These personnel should be under a physician's care as soon as possible. Stabilize seriously injured fire personnel and transport them safely to a physician's care as quickly as possible. Provide intravenous fluid replacement therapy and a carefully selected list of controlled drugs. This level of care was initially sanctioned by IC's and LSC's that were well aware that providing this particular level of care would make the program more expensive and complicated than just offering first aid.
Recognize that further increasing the level of emergency medical care provided by this program could increase complexity, logistical difficulty, and cost. Carefully limit the program so that it is designed to deal with likely medical events on fires rather than worst-case scenarios. For example we choose not to offer Advanced Cardiac Life Support (ACLS) as part of this program on the advice of physicians and for logistical and legal reasons.
Require medical supervision and sponsorship of this program by a physician, preferably one that specializes in emergency medicine. Employ the physician advisor using the Federal Volunteer Agreement because this agreement specifically offers the physician advisor protection under the Federal Tort Reform Act. The DOF volunteer agreement, by contrast, offers only implied liability protection under the State Worker's Compensation Act.
Recognize that over-the-counter medications are potentially dangerous. If a Fire Medic is assigned to a fire, involve that medic in the issuing of any over-the-counter medications to ensure better use of the medications and reduce the chance of misuse. Carefully control the choice and minimize the number of allowable over-the-counter drugs used with this program.
Field a unit that consists of both Fire Medic(s) and medic kit, a unit that can be mobilized very quickly and a unit that is ready to operate without immediate resupply. Make this unit as light as is reasonable, easily transportable by air and ready to function immediately after delivery to the incident. Design a program that makes large numbers of kits and medics available in times of high need.
Simplify the Fire Medic program by choosing just one scale of medical certification or license, that of Emergency Medical Technician/Paramedic, instead of also considering the use of Registered Nurses, Nurse Practitioners, rural health aides, standard or advanced first aid providers or Physician Assistants. Only Emergency Medical Technician/Paramedics had standardized levels of certification in emergency care. This was also the group that offered the largest potential pool of prospective Fire Medics. Fires may choose to employ nurses, Physicians Assistants, etc. in other medical roles.
Fill Fire Medic positions with the most qualified and experienced Emergency Medical Technicians/Paramedics available. Ensure that medics used in this program are carefully selected, experienced and professionally competent. Document that medics are currently practicing and licensed or certified by the State of Alaska as Emergency Medical Technicians or Paramedics. Ensure that the medics are recommended by an Alaskan Emergency Medical Service agency or fire department. Have the medics specifically approved by this program's physician sponsor. Ensure that pay rates are high enough to attract high caliber Emergency Medical Technicians for non-guaranteed employment. Avoid the necessity of using suppression agency regular employees as Fire Medics.
Design the Fire Medic program to be cost efficient with the expected gain to the suppression agencies proportional to the cost of the program. Operate the program with minimal expenditures of pre-suppression funds.
Ensure that the Fire Medic program is closely monitored and carefully controlled. Provide for ongoing annual review of the Fire Medic program with both internal and external input. Provide for ongoing comparison with on-Fire Medical programs offered by other parts of the suppression community. Make annual modifications to ensure that this program is medically sound, minimizes potential legal liability, incorporates feedback from users and best meets the needs of incidents and the suppression agencies. Ensure that complete program medical records are immediately collected and centrally available for review by the physician sponsor and the medic committee.
Provide a written Fire Medic policy that will serve as a complete guide to the Fire Medic program for incidents, medics and agency employees.
Frequently Asked Questions
What levels of training are available in the Fire Medic Program?
Trainee-An EMT I or higher who meets prerequisites and completes the 4 day Annual Fire Medic Training. The trainee who accepts an assignment will go out with a task book and a Lead Medic. The task book usually takes 2-3 fire assignments to complete.
* Medic * This position is the trainee who has successfully completed their task book and has been approved by the Fire Medic Coordinator. Medics accept assignments and are dispatched with a Lead Medic.
*Lead Medic* This position is recommended for some medics who show leadership potential and have worked several years in the Fire Medic Program. This position takes the lead regarding management rather than patient care. A Lead Medic may be an EMT I and their trainee may be a paramedic.
What are the prerequisites for acceptance into the Alaska Fire Medic Program?
You must carry a current Alaska EMT certification, a Red Card, and CPR for Health Care Providers, be an active member of a Fairbanks North Star Borough Fire Department or get approval from the coordinator.
How do you get to be a Fire Medic?
Fill out an application and turn it in to Jon Thomas at BLM Alaska Fire Serive. Also call him at (907) 356-5683 to reserve a space in the April  Alaska Fire Medic Training.