Utah Featured Partners
Utah is famous for its paleontological resources.  Nearly 300 different species of dinosaur have been discovered from the state of Utah and most of them are from BLM-administered lands. We are currently undergoing a renaissance in the discovery, research, and interpretation of fossils from Utah.
BLM-Utah partners with agencies, friends groups, museums, universities and permittees to conduct science, develop and implement cultural resource programs, create and share education and outreach messages, and build new interpretive sites.
Featured Story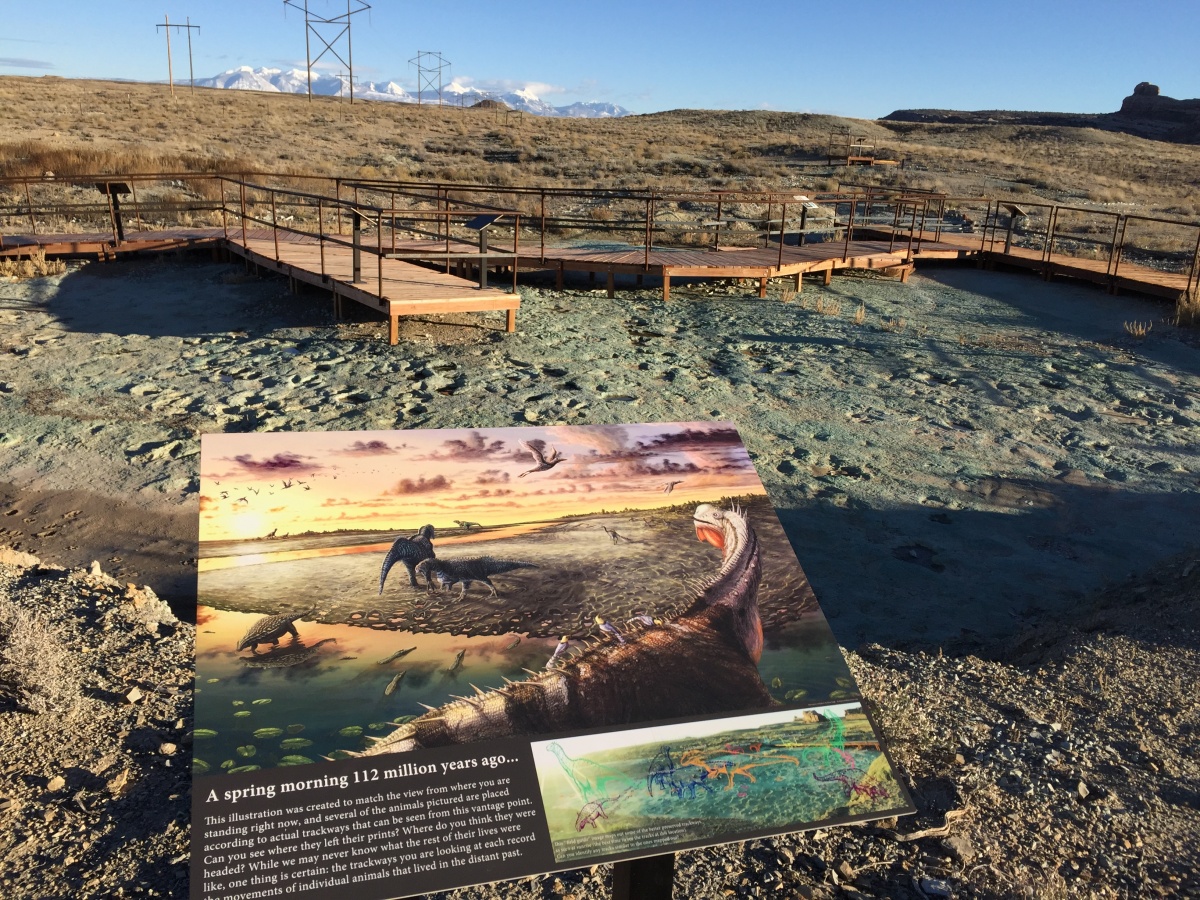 Discovered in 2009 by a local Moab resident, the Mill Canyon Dinosaur Tracks were originally exposed where a jeep road crossed over a dry wash. The BLM road closed in 2010 to protect the tracks and began investigation. From 2013-2015 an international team led by Dr. Martin Lockley began to clean and document the site under an excavation permit issued by the BLM. Local participants from the Moab "Gastonia Chapter" of the Utah Friends of Paleontology, Grand Country Trail Mix and the Canyonlands Natural History Association also assisted with the track site. Routine clearing of dirt and debris is necessary and is completed under the guidance of the BLM Canyon Country District paleontologist.
The boardwalks were constructed by the BLM with assistance from the Southeastern Utah Interagency Fire Crew, Utah Conservation Corps, and Southern Utah University Intergovernmental Internship Cooperative during September 2014 and May 2015. Signs were installed during the fall of 2015 and spring of 2016, with the grand opening of the site on April 1, 2016. 
The Mill Canyon Dinosaur Tracksite is 112 million years old and hosts at least 8 types of track, including tracks made by dinosaurs, crocodiles and birds. Several of these tracks are either newly found in to North America, or from animals not currently known to science from body fossils in this area.
To reach the site, drive 15 miles north of Moab on U.S. 191, then turn left onto a dirt road marked "Mill Canyon." This road is just north of highway milepost 141. Be careful when crossing the train tracks. Proceed 0.6 miles to a "Y" intersection, then turn left. Follow signs to the parking lot. The track site is a short walk on the trail located to the right side of the rock-lined parking area. Interpretive panels are present.
Partners and Donors:
Utah Friends of Paleontology
Canyonlands Natural History Association
University of Colorado at Denver
Moab Giants Museum
Museum of Moab
Southeastern Utah Interagency Fire Crew
Utah Conservation Corps
Southern Utah University Intergovernmental Internship Cooperative, Grand Country Trail Mix, Natural Research Institute of Cultural Heritage (Korea), Topper Family Trust, Monarch Casino & Resort, Inc.