Cultural Heritage and Paleontological Resources
Homestead Act 150 Year Anniversary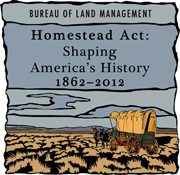 The Homestead Act of 1862 brought about significant and lasting changes to the United States. Giving individuals from the United States and around the world the opportunity to claim free government land allowed nearly any man or woman a chance to live the American Dream. During the homesteading era over 1.6 million people stepped-up to the challenge to claim and settle more than 270 million acres of public land.
This May, the Homestead Act will celebrate its 150th birthday. The BLM Oregon/Washington invites you to learn more about our historic lands and the BLM's role in preserving them will be at the forefront of our Commemoration of the Homestead Act. Read more >>
General Land Office 200 Year Anniversary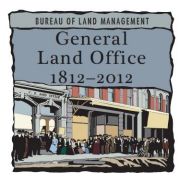 The Bureau of Land Management was officially established in 1946, but it has roots dating back two hundred years, since the foundation of the General Land Office (GLO) in 1812. The "Gateway to Land Ownership," as it was colloquially dubbed, helped millions of Americans in the 19th and 20th centuries acquire public lands for private and agricultural usage, while simultaneously generating income for the Federal Government.
This April, the GLO will celebrate its 200th birthday. The Oregon/Washington BLM invites you to learn more about our historic lands, and the enduring legacy of the General Land Office. Read more >>
Archaeological and Historical Resources
The archaeological and historic sites the BLM manages are known as cultural resources. Cultural resources can include a vast range in types of sites and landscapes that result from past human activities. Archaeological sites on public lands in Oregon and Washington include rockshelters, quarries, campsites, village sites, and rock art sites. Historic sites and structures on public lands include lighthouses, ranches and homesteads, railroad logging camps, Civilian Conservation Corps sites and many roads and trails. Some sites have traditional cultural importance to the region's American Indian tribes and other groups. The locations play an important role in maintaining their cultural heritage. These locations are often of religious significance or where traditional activities are carried out.
It is the responsibility of the BLM to inventory, evaluate, and manage these important but fragile resources for the public. The BLM manages cultural resources in order to conserve their significant cultural, scientific, educational, traditional, and recreational values for present and future generations. More than 1.2 million acres of public lands in Oregon and Washington have been inventoried for cultural resources. Over 10,300 cultural resource sites have been recorded.
The inventory and recordation program has resulted in 19 sites and districts listed on the National Register of Historic Places. Cultural or historic values associated with 17 designated Areas of Critical Environmental Concern include five segments of the Oregon National Historic Trail, the Snake River Archaeological District, the Sterling Mine Ditch in southwestern Oregon, the Biscuitroot Cultural area in eastern Oregon, the Spanish Gulch Mining District in central Oregon, and the Yakima River Canyon in central Washington. The 52,000-acre Cascade-Siskiyou National Monument established in 2000 contains a rich record of cultural resources.
Paleontological Resources
Many kinds of fossils can be found on the BLM-managed public lands in Oregon and Washington, some world-class in scientific importance. Fossils are the remains and traces of once-living organisms, preserved in rocks of the Earth's crust. The BLM-managed lands in Oregon have fossil resources ranging from near-shore Oligocene marine species along the margins of the Willamette Valley to the well-preserved, remarkably complete fossil record of plants and animals within the heavily eroded volcanic deposits of the scenic John Day River basin.
Fossil deposits in eastern Oregon, in particular, represent a time when primitive mammals began to change and adapt to new environments and show a slow transition into faunas that we recognize today. Researchers from institutions such as the University of Oregon, the University of California-Berkeley, University of Nebraska, University of Florida, and South Dakota School of Mines and Technology conduct studies on public lands to study ecological and evolutionary changes of the past 50 million years.
Two areas on public lands have been designated Areas of Critical Environmental Concern to protect paleontological resources: Logan Butte and Fossil Lake.
Definitions
Archaeology: a method for the discovery, study and reconstruction of past human cultures from material remains such as artifacts and sites.
Archaeological site: a place that holds evidence of past human activity.
Artifact: any object made, modified or used by humans, usually but not necessarily portable.
History: the study of past events and times through use of written and recorded sources. In some cases, oral sources may also be available.
Paleontology: the study of ancient plants and animals now known only from fossil remains.
Prehistory: information about past events prior to the recording of events in writing. The period of prehistory differs around the world depending upon when written records became common in a region.