Cultural Publications & Posters
The publications and brochures listed below can be obtained by calling or visiting BLM's Public Information Center.
Publications
Brochures
History of the GLO in Oregon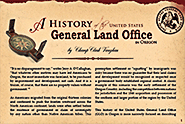 BLM is proud to announce the release of this new book that provides an in-depth look at Oregon's history through the eyes of the General Land Office. In 1812, the General Land Office or GLO was established as a federal agency within the Department of the Treasury. The GLO's primary responsibility was to oversee the survey and sale of lands deemed by the newly formed United States as "public domain" lands. The GLO was eventually transferred to the Department of the Interior in 1849 where it would remain for the next ninety-seven years. The GLO is an integral piece in the mosaic of Oregon's history. Today the imprint of the GLO on Oregon's landscape is unmistakable in its cardinally-oriented roads and property lines. However, the story of the GLO in Oregon runs deeper than mapping and surveying the lands. As agents of the United States, GLO surveyors operated under the umbrella of United States' public land laws and policies and treaty-making with Indian tribes. This free book is just a small, but fascinating piece of Oregon's history and the role played by the GLO! Download your free copy here (PDF).