Spokane Newsroom
Bureau of Land Management offices post News Releases to share news or let you know upcoming plans for their area. If you have questions regarding a specific News Release, contact information is at the top of each News Release. Please feel free to contact the Spokane Office with your questions or comments, at 509-536-1200 or by email.
Announcements
BLM Releases Draft Plan for Western Oregon
Date: 04/24/15
The Bureau of Land Management has released draft alternatives for the future management of 2.5 million acres of BLM-administered lands in western Oregon to better achieve social, economic and ecological objectives. The 90-day public comment period includes 16 open houses or workshops in the region. Five alternatives are detailed in the Draft Resource Management Plan (RMP)/Environmental Impact Statement (EIS) for western Oregon, which is available online at: http://www.blm.gov/or/plans/rmpswesternoregon/meetings.php
For more information, check out our website:
http://www.blm.gov/or/plans/rmpswesternoregon/
Watch videos:
http://www.blm.gov/or/plans/rmpswesternoregon/videos.php
News Release:
http://www.blm.gov/or/news/files/BLM_Oregon_RMP_Draft_DEIS_RMPs_Press_Release.FINAL_.pdf (PDF)
Date: 12/10/14
The BLM has released the next series of its popular vintage poster collection and it includes a poster of the San Juan Islands National Monument (SJINM). The SJINM encompasses about 1,000 acres of land spread across rocks and islands managed by BLM. The vintage-style drawing featured on the poster is of Patos Island and its lighthouse, which is a dominant feature of the area.
Stop by your local BLM Office to free copy of this spectacular poster!
History of the GLO in Oregon
Date: 07/10/2014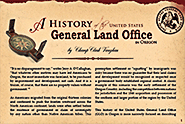 BLM is proud to announce the release of this new book that provides an in-depth look at Oregon's history through the eyes of the General Land Office. The General Land Office GLO is an integral piece in the mosaic of Oregon's history. Today the imprint of the GLO on Oregon's landscape is unmistakable in its cardinally-oriented roads and property lines. However, the story of the GLO in Oregon runs deeper than mapping and surveying the lands. As agents of the United States, GLO surveyors operated under the umbrella of United States' public land laws and policies and treaty-making with Indian tribes. This free book is just a small, but fascinating piece of Oregon's history and the role played by the GLO! Download your free copy here (PDF).
BLM Releases Decision for Hardrock Prospecting
Date: 12/21/12
The Bureau of Land Management (BLM) announced today that it has issued a decision that approves two hardrock prospecting permits for geological exploration within the Gifford Pinchot National Forest northeast of the Mount St. Helens National Volcanic Monument (NVM). Beginning in March 2011, Ascot Resources Ltd. (Ascot) - a Vancouver, B.C.-based company incorporated in the State of Washington as Ascot USA Inc. - applied for the two prospecting permits. Earlier this month the U.S. Forest Service issued a Decision Notice consenting to the prospecting work.
Secretary Salazar Proposes Expansion of Ecological Forestry in Western Oregon and Update Resource Management Plans
Date: 02/22/12
During a visit on February 21 to one of three ecological forestry pilot projects in Oregon, Secretary of the Interior Ken Salazar announced that the Department of the Interior's Bureau of Land Management (BLM) will apply ecological forestry principles on a broader landscape to restore forest health and to provide sustainable timber harvests for local mills and the communities who rely on the timber industry for jobs and economic strengths.
Forestry Pilot Projects Report
Date: 02/14/12
Following up on the December 8, 2010 meeting in Washington, D.C. the BLM committed to immediately develop action plans for both the Roseburg Pilot Project and the Middle Applegate Watershed Pilot Project. Throughout 2011, the BLM, along with Drs. Norm Johnson and Jerry Franklin, held a series of public meetings, workshops, and field trips to discuss the pilot projects and learn more about the principles of ecological forestry. In February 2012, the BLM released a report regarding the Drs. Johnson and Franklin's observations about the Forestry Pilot Projects.
BLM Distributes Final Payments to Counties
Date: 01/20/12
The BLM announced today that it has issued payment to 18 counties in western Oregon eligible under the Secure Rural Schools and Community Self-Determination Act extension (Public Law 110-343). The amount paid to the Oregon & California (O&C) counties was $40,037,160.
Date: 09/21/11
Interior Conservation Awards to BLM-Led Partnerships
Secretary of the Interior Ken Salazar presented his "Partners in Conservation" Awards to a number of outstanding conservation partnerships at a ceremony on September 21, 2011. The awardees included four BLM-coordinated partnerships: Oregon's Jefferson Conservation Corps; the Gila Watershed Partnership of Arizona; New Mexico's Permian Basin Memorandum of Agreement Program; and the nationwide Project Archaeology program.
A video profile about the Jefferson Conservation Corps is available on YouTube at:
In addition, an article about the Jefferson Conservation Corps is available in winter 2010 issue of BLM's magazine, NW Passage:
Socioeconomic Impacts of the BLM
The BLM has the privilege of protecting and maintaining some of the Nation's most unique treasures. We manage over 15.7 million acres of public land in Oregon, and approximately 436,000 acres in Washington, together with some 23.4 million acres of federal subsurface minerals. The BLM lands provide for a variety of multiple uses throughout the Northwest, all of which contribute to the well-being of local communities through economic activities, social contributions, and land stewardship programs. Take a look around at these socio-economic contributions; we think you'll be pleasantly surprised.
Mineral Materials Sale in Benton County, WA
Date: 02/28/11
The BLM Spokane District Office intends to offer, for competitive bidding, the mining rights for developing sand and gravel and quarry rock in the Tri-Cities area, Benton County, Washington. Bidding will be conducted at the BLM Spokane District Office at 1103 North Fancher Road, Spokane Valley at 1 p.m. on Monday, March 7, 2011.
BLM Restores Guidance for Managing Lands with Wilderness Characteristics
Date: 02/25/11
The Bureau of Land Management (BLM) today issued guidance to its field managers describing how the agency will use its land use planning process to enable local communities, States, Tribes, the public, and stakeholders to help determine how to manage public lands with wilderness characteristics.
The guidance will ensure public lands with wilderness characteristics are inventoried, described, and managed in accordance with Secretarial Order 3310, issued by Interior Secretary Ken Salazar in December.
President Proposes $1.13 Billion for BLM in Fiscal Year 2012 To Protect Resources and Manage Uses of Public Lands
Date: 02/14/11
President Obama today requested $1.13 billion in appropriations for the Interior Department's Bureau of Land Management in Fiscal Year (FY) 2012, a decrease of $12.0 million from the 2010 Enacted/2011 Continuing Resolution level. The budget makes strategic investments in support of Administration and Secretarial initiatives, and offsets funding increases for these priorities with $25.5 million in administrative and management savings, shifting $42.4 million in energy and minerals inspection costs to industry, and reducing lower-priority programs.
Under the President's proposed budget, the BLM will focus on a number of priorities, including: Renewable Energy; Cooperative Landscape Conservation, including Sage-grouse Habitat Management; Youth in the Great Outdoors; Abandoned Mine Lands and Hard Rock Mining Reform; Wild Horse and Burro Program; and the Secretary's Western Oregon Strategy.
Fishtrap Lake Recreation Area Emergency Closure for Recreational Shooting and Target Practice
Date: 10/14/10
The BLM has issued an emergency closure for recreational shooting and target practice affecting the northeastern portion of the Fishtrap Lake Recreation Area.
BLM Releases Western Oregon Forest Management Report
Date: 07/22/10
Bureau of Land Management (BLM) Director Bob Abbey today announced the findings of the interdisciplinary Western Oregon Task Force and an interagency approach for moving forward in the management of BLM-managed forests in western Oregon.
BLM Prepares for Upcoming Oil and Gas Lease Sale
Date: 06/14/10
The Bureau of Land Management (BLM) Oregon State Office announced that it will offer two parcels totaling approximately 2,722 acres, in Washington State, at its June 17, 2010 Oil and Gas Lease Competitive Sale. All of the parcels to be offered are in southeast Washington in Benton County.
President Proposes $1.1 Billion for BLM in Fiscal Year 2011
Date: 02/01/10
With a focus on renewable energy development, climate change adaptation, and other key priorities, President Obama today requested $1.1 billion in appropriations for the Department of the Interior's Bureau of Land Management in Fiscal Year 2011. This represents an $8.0 million increase from the BLM's FY 2010 enacted funding level. The President's request reflects his continuing commitment to be prudent with taxpayer dollars while setting priorities for spending.
Volunteers Help Clean up Douglas Creek Canyon and Escure Ranch
Date: 10/08/09
Volunteers turned out for National Public Lands Day on Saturday, September 26, 2009, to lend a helping hand replacing fence, building horse corrals, performing trail maintenance, and helping pick up litter at two Bureau of Land Management (BLM) managed sites, Douglas Creek Canyon and Escure Ranch Recreation Areas.
News Release (PDF)
Emergency Restrictions Order for Juniper Dunes
Date: 5/18/07
Emergency restrictions are now in effect on BLM Public Lands in the Juniper Dunes located in Franklin County in the state of Washington. more>>