Prineville Newsroom
Bureau of Land Management offices post News Releases to share news or let you know upcoming plans for their area. If you have questions regarding a specific News Release, contact information is at the top of each News Release. Please feel free to contact the Prineville Office with your questions or comments, at 541-416-6700 or by email.
Announcements
IBLA Decision prompts change in Lower Deschutes River Special Recreation Permit process
Date: 06/26/15
On June 1, 2015, the Interior Board of Land Appeals (IBLA) determine that the Prineville BLM's interpretation of how new Special Recreation Permits are issued was inconsistent with the Lower Deschutes River Management Plan. The BLM has historically only issued new permits to purchasers of Lower Deschutes businesses that currently hold SRPs. This practice was recently challenged by an applicant for a new SRP on the Lower Deschutes River, through an appeal to the Department of Interior's Board of Land Appeals. The Board determined the BLM was not acting in conformance with the plan by not considering new permits from all applicants, not just those who purchased a business with an existing SRP. In addition, the Board determined that issuing permits to purchasers of businesses already holding an SRP constituted a transfer, not a new permit, in express prohibition of the Plan. BLM intends to have a new process for fairly issuing permits in place by this fall. A copy of the IBLA decision is available here (PDF).
BLM Releases Draft Plan for Western Oregon
Date: 04/24/15
The Bureau of Land Management has released draft alternatives for the future management of 2.5 million acres of BLM-administered lands in western Oregon to better achieve social, economic and ecological objectives. The 90-day public comment period includes 16 open houses or workshops in the region. Five alternatives are detailed in the Draft Resource Management Plan (RMP)/Environmental Impact Statement (EIS) for western Oregon, which is available online at: http://www.blm.gov/or/plans/rmpswesternoregon/meetings.php
For more information, check out our website:
http://www.blm.gov/or/plans/rmpswesternoregon/
Watch videos:
http://www.blm.gov/or/plans/rmpswesternoregon/videos.php
News Release:
http://www.blm.gov/or/news/files/BLM_Oregon_RMP_Draft_DEIS_RMPs_Press_Release.FINAL_.pdf (PDF)
Date: 12/10/14
The BLM has released the next series of its popular vintage poster collection and it includes a poster of the San Juan Islands National Monument (SJINM). The SJINM encompasses about 1,000 acres of land spread across rocks and islands managed by BLM. The vintage-style drawing featured on the poster is of Patos Island and its lighthouse, which is a dominant feature of the area.
Stop by your local BLM Office to free copy of this spectacular poster!
History of the GLO in Oregon
Date: 07/10/2014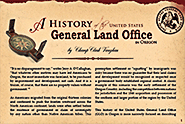 BLM is proud to announce the release of this new book that provides an in-depth look at Oregon's history through the eyes of the General Land Office. The General Land Office GLO is an integral piece in the mosaic of Oregon's history. Today the imprint of the GLO on Oregon's landscape is unmistakable in its cardinally-oriented roads and property lines. However, the story of the GLO in Oregon runs deeper than mapping and surveying the lands. As agents of the United States, GLO surveyors operated under the umbrella of United States' public land laws and policies and treaty-making with Indian tribes. This free book is just a small, but fascinating piece of Oregon's history and the role played by the GLO! Download your free copy here (PDF).