BLM New Mexico COVID-19 Information Update February 25, 2021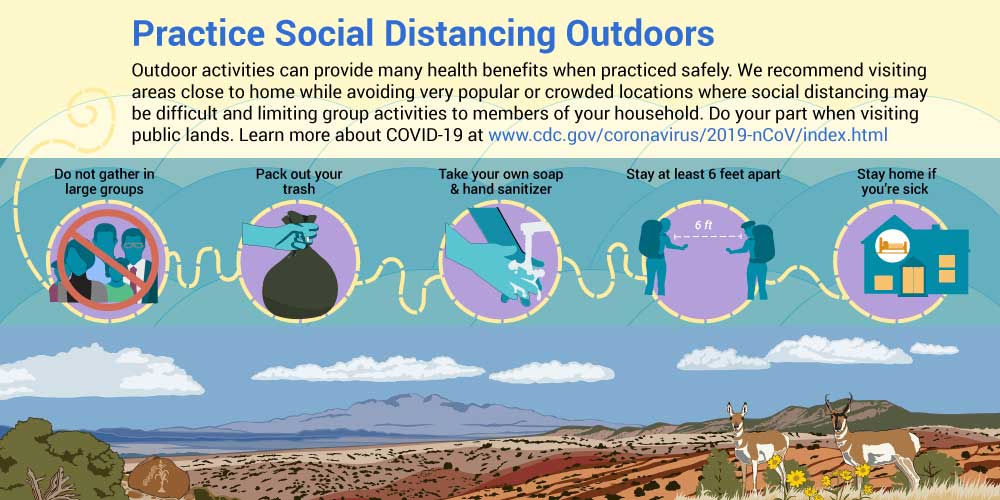 Visitors may continue to enjoy BLM trails and open space areas. The health and safety of staff and visitors in these facilities is our number one priority. We continue to remind our visitors to follow the Center for Disease Control and Prevention's CDC's guidance to prevent the spread of infectious diseases, including maintaining social distancing, covering your mouth and nose when you cough or sneeze, and staying home if you feel sick. Visitors are encouraged to "pack it in and pack it out" as future trash pickup may be limited due to limited staff availability in some areas. Please expect to pay fees at any site that is open and typically collects fees.
Public Rooms and Visitor Centers
Continuing our service to the public while doing our part to address COVID-19 is very important. Following guidance from the CDC and recommendations from state and local public health authorities, some BLM offices are temporarily restricting in-person access to public rooms or offering limited services by appointment only.
Before you visit your local BLM office, please call that office to confirm services and availability of staff.  If you call your local BLM office, and are unable to reach the person you are looking for, you can also call the BLM New Mexico State Office at 505-954-2222 for assistance.
Recreation Closures
The following BLM recreation facilities in New Mexico are temporarily closed until further notice: 
Albuquerque  District Office
Rio Puerco Field Office
El Malpais Ranger Station - Closed for renovations and is expected to reopen summer of 2021. Water for campers and RVs is not available at this time.
Kasha-Katuwe Tent Rocks National Monument
Farmington District
Farmington Field Office
Taos Field Office
Big Arsenic Campground
Chiflo Campground
El Aguaje Campground
La Junta Campground
Little Arsenic Campground
Montoso
Posi-Ouinge Trail (Closure due to structure fire.)
Rio Grande Gorge Visitor Center
Santa Cruz Lake is open for day-use.The public can visit this area Thursday-Sunday, from 8 a.m.- 4 p.m.
Taos Junction campground: closed for winter season
Wild Rivers Visitor Center
Wild Rivers Inner Gorge primitive campsites
Las Cruces District
Three Rivers Visitor Center
Lake Valley School House
A.B. Cox Visitor Center at Dripping Springs Natural Area
Pecos District
Valley of Fires Recreation Area is open with these limitations: The main bath house/restroom facility will be closed indefinitely for safety reasons.  The vault toilets will remain open.   
The recreation site closures will remain in effect until further notice. The BLM thanks all New Mexicans, visitors and partners for their cooperation. Please report any instances of vandalism to facilities to the local district office or the BLM Law Enforcement dispatch at 1-800-637-9152.
---
The New Mexico Public Lands Information Center
The New Mexico Public Lands Information Center is available via their online chat or phone at 505-954-2002 to answer questions about which public lands are open, where you can go camping, where to cut fuelwood, and how you can practice social distancing in the great outdoors.
Their new online information center is open, Monday through Friday, 8:00 a.m. to 4:30 p.m. MST. 
Last Update
Thu, 02/25/2021 - 8:52 am MST
Created
Thu, 03/19/2020 - 3:00 pm MDT